Make an Impact: How to Choose a Modern Accent Chair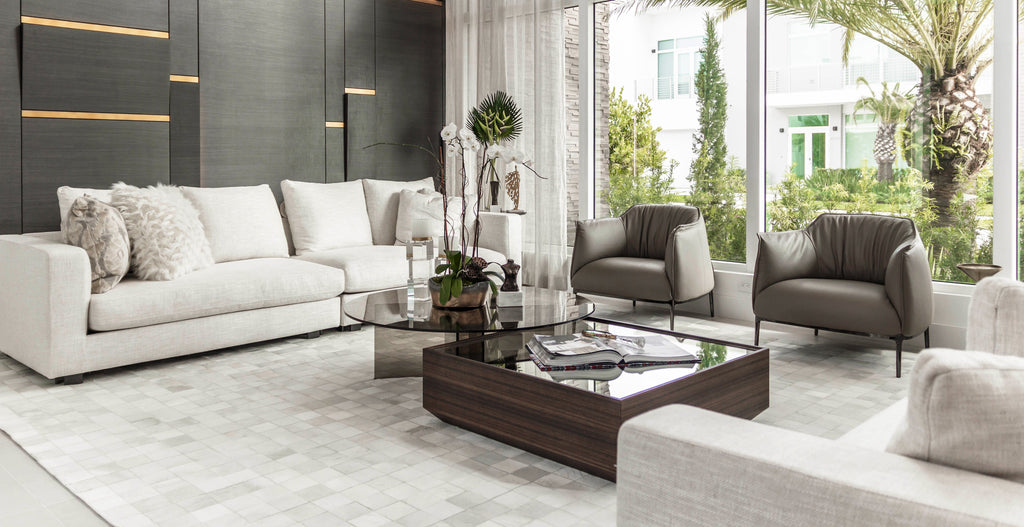 Add a pop of personality to your space in the form of an accent chair.
What can an accent chair bring to your space?
Not only will an accent chair - also known as an occasional chair or lounge chair - provide extra seating, but it can also add interest and color to your room. The contrast with your other furnishings will make it an instant centerpiece, so take a chance and go bold.
Should I choose a fabric or leather armchair?
The ideal upholstery options will depend on how you plan to use the chair, and its location in your space. In living room areas, home office, master bedroom, or den, you can go all-out on a luxe covering such as leather or velvet. In busy family zones where kids, pets and everyday wear and tear will likely make an impact on the chair, a durable fabric such as linen, polyester or cotton could be the best choice. Alternatively, thick leather is a more budget-friendly leather upholstery that can withstand the daily use of kids and pets.
What style of armchair is right for me?
Minimalist lines meet luxe Italian style for a sleek, modern look. Choose from a range of chairs that combines exquisite fabrics, comfort, and the use of metal in bases or arms.
This style features austere design, excellent craftsmanship and the use of wood, fabric, and leathers. Pure creativity, Scandinavian masters are famous for their timeless design. With arms or without arms, these accent chairs are constantly updated to suit contemporary tastes, while still retaining the high level of comfort and ease of relaxation the style is known for.
Low arms, a curved back and all-over upholstery in luxe leather or fabric sets an elegant tone in modern, open-plan spaces. Narrow legs lift the piece up off the floor, keeping the look light and creating the illusion of space.
Inspired by the classics of the 1940s-'60s, an organic timber frame with a slim seat combines with clean lines and sleek curves to create the ultimate mid-century modern look. Contrast natural materials such as solid wood with leather or fabrics.
This style features strong straight lines, the use of metal such as stainless steel in different finishes, together with upholstered seats in leather or eco-leather. The use of metal legs gives a light look to these lounge chairs.