How to choose a modern look bed?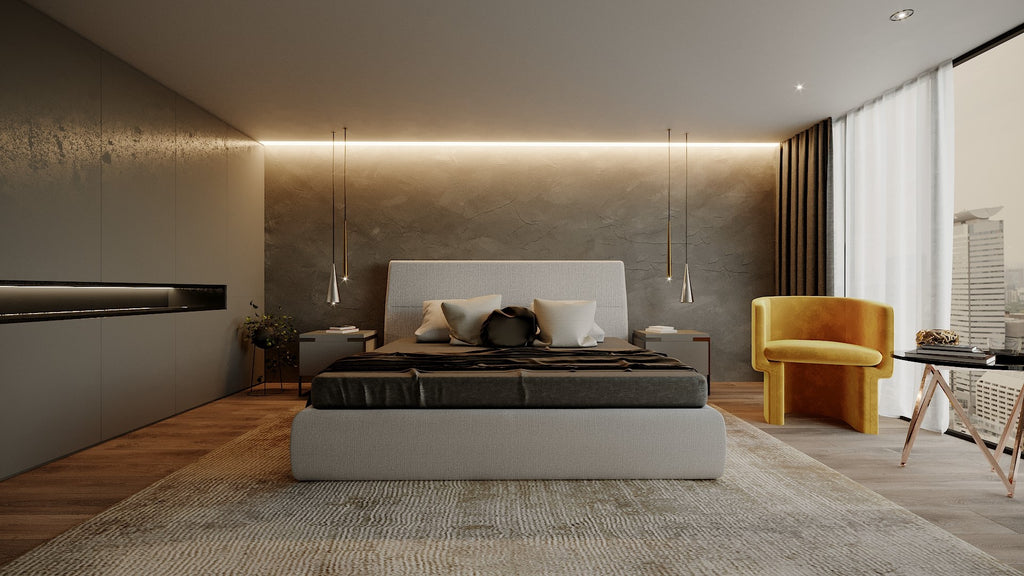 If your lifestyle is urban, you like clean lines aesthetics, and you have a minimalistic sense of luxury, then you probably choose a modern bed for your bedroom space.
Here's what you need to know to decide on your new bed.
First of all is bed size. If your space is large enough, a king size bed will give you more comfort in your bedroom, as well as your space will show the right layout in terms of proportions. A king size mattress that fits into this bed is 76x80 inches.
In case your space is smaller, we recommend a queen size bed. You can create a stunning bedroom that reflects your personality even with a smaller bed size. Remember that the mattress size that fits into a queen bed is 60x80 inches.
Space matters:
Measure your space, taking doorways and access points, air-conditioning vents and walkways into account. Consider the ceiling height as well, to decide how tall you want the headboard to be. Besides the mattress size, you should consider an extra 3 inches on each side to get the whole width of the bed.
Another factor to consider in your bedroom layout is the width of your nightstands. You should add side tables are fitting the space you would like to design and furnish.
An extra consideration is how much room you need for the actual sleeping. If you and your partner love your personal space, or frequently find yourself sharing your bed with pets and kids, then a king size bed is a smart option.
Functionality:
Your bed can be functional in terms of storage. Some people would prefer a built in storage space under the mattress to keep personal stuff. On the other hand, a bed with legs, meaning a high frame, will allow you to place items underneath.
The look:
Contemporary
All-over upholstery, subtle curves and tapered legs offer softness and luxe texture for a calming, cozy look. An upholstered bed is easy to match with any kind of case goods, either wooden ones, or lacquered. Most of them are upholstered in leather, eco-leather, micro suede, velvet, and fabrics.
Contemporary beds used to have mid-low headboard height, and make the room look sleeker and clean.
Nature - contemporary
This is a style that is related to the love for true nature pieces, such as natural wood, or reclaimed woods. New modern designs have taken a new approach to the love for solid timbers in the bedroom, by creating solid wood beds, with some metal details. A solid wood bed frame adds warmth and texture, becoming an instant centerpiece.
Glam style
The idea behind this look is to create a bedroom space that stands out for its luxury and sophistication. High headboards fully upholstered in rich fabrics and velvet, tufted or quilted in geometrical shapes, high frames, and slim legs – sometimes with the combination of wood and brass, or simply polished steel, are characteristic of this modern look. 
Material mix
Raw timber and metal, leather or fabric make a stylish statement. A padded headboard with a slim wood base offers Scandinavian touch of simplicity, while a lightweight metal base mixed with veneer wood headboard is practical and beautiful.
Minimalist
If you would like to create a neat and clean space, take a minimalist approach where less is more. Lower headboards, lower bed frames, wide side rails are characteristic of this look. They come either fully upholstered in leather or fabric, or a mix of wood and upholstered headboard. Layer it up with luxe bedding and throws to add interest, or keep it simple with crisp all-over white. 
Whatever your modern look is, make your bedroom a truly sanctuary for resting and relaxing. Would you like to see more beds? Visit www.habitusfurniture.com for more details.